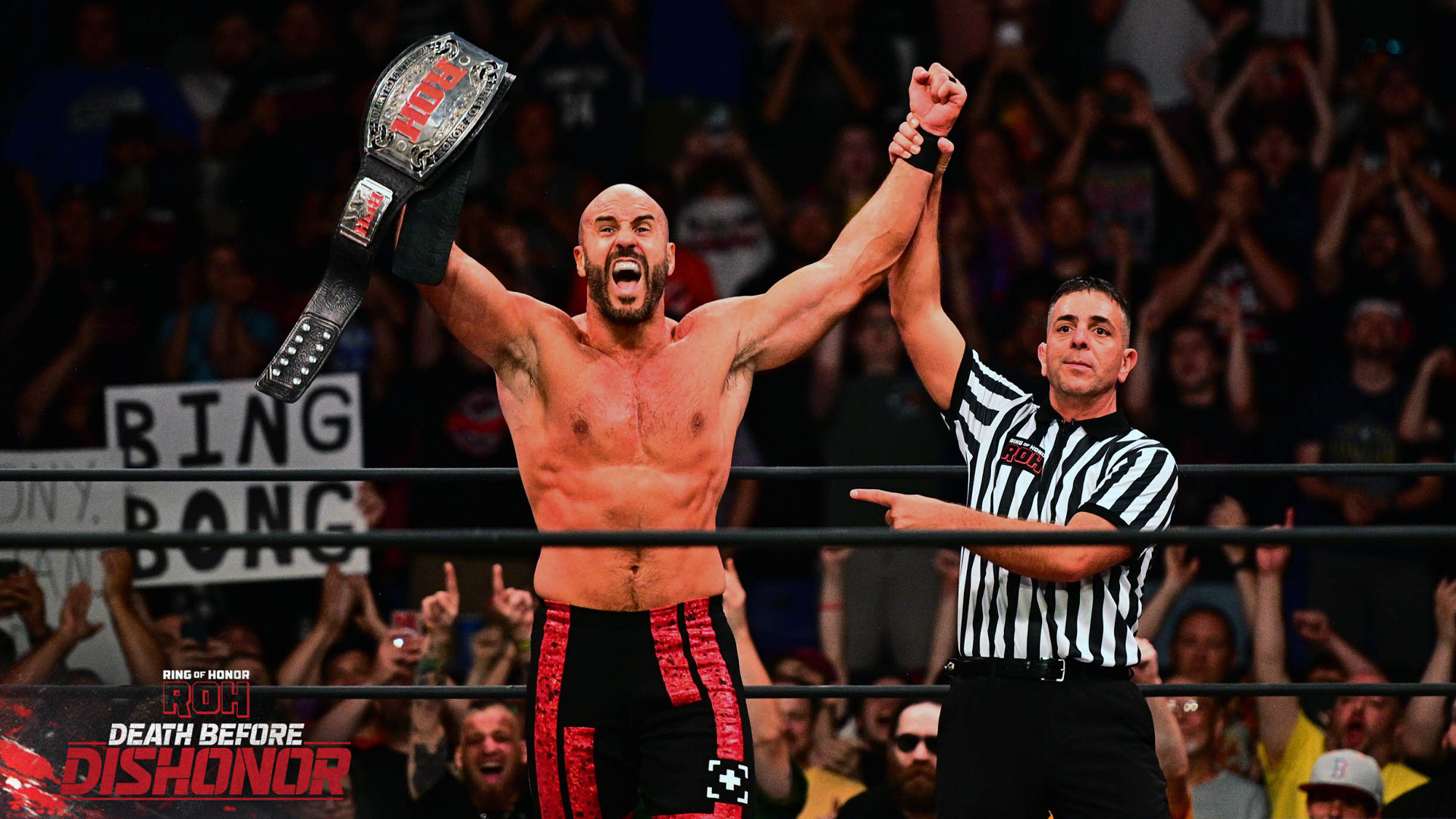 ROH Champion Jonathan Gresham vs. Claudio Castagnoli.

Starting with the World title? We are then told that the tag team title matches will be the main event. William Regal joins commentary.

Claudio goes for the uppercut to start and Grasham dodges it. Gresham and Claudio start battling with a wrist lock. They break. They go for a greco roman knuckle lock and Claudio picks the legs and gets the big swing. Claudio goes for a pin and Gresham bridges out. Gresham goes to the apron and gets a dragon screw on Claudio. Claudio is able to block an Irish whip and reverses it on him. They do it again, and when they greek, Gresham is able to take Claudio down and then drop kicks his knees, keeping him down.

Gresham goes for a leg lock and the battle in the leg lock. Gresham tries for a figure four , and Claudio kicks him off. Gresham goes to the apron again and they battle in the ropes. Claudio is finally able to slam Gresham back into the ring for a two count. Gresham is able to attack in the corner again and then goes after Claudio's knees. Greshma leaps at Claudio and Claudio snatches him from the air and hits a back breaker for a two count. Claudio gets another slam and a two count.

Claudio tries for the sharp shooter and Gresham is able to block it so Claudio hits a double stomp for a two count. Gresham go9es back to attacking the knee. Gresham tries for a suplex, and Claudio backs him into the corner. Gresham is able to get a drop kick and an ankle lock. Claudio gets to the rope for a break. Gresham hits a series of chops. Gresham calls for a chop from Claudio, which is instead a pair of uppercuts. Gresham goes back to the knees, gets an insigiri.

Claudio is able to get Gresham up, but his knee gives out and Gresham gets a moonsault into an ankle lock. Gresham is then able to get a German and hold on for a two. He then goes for a series of quick two count. Claudio gets an upper cut, but Gresham gets out of a slam and then trade two counts.Claudio is able to get the hammer and anvil elbows, and as some foreign object falls from Gresham's hands, Claudio gets the Ricola Bomb for the pin and the three.

Winner and NEW Ring of Honor Champion: Claudio Castagnoli.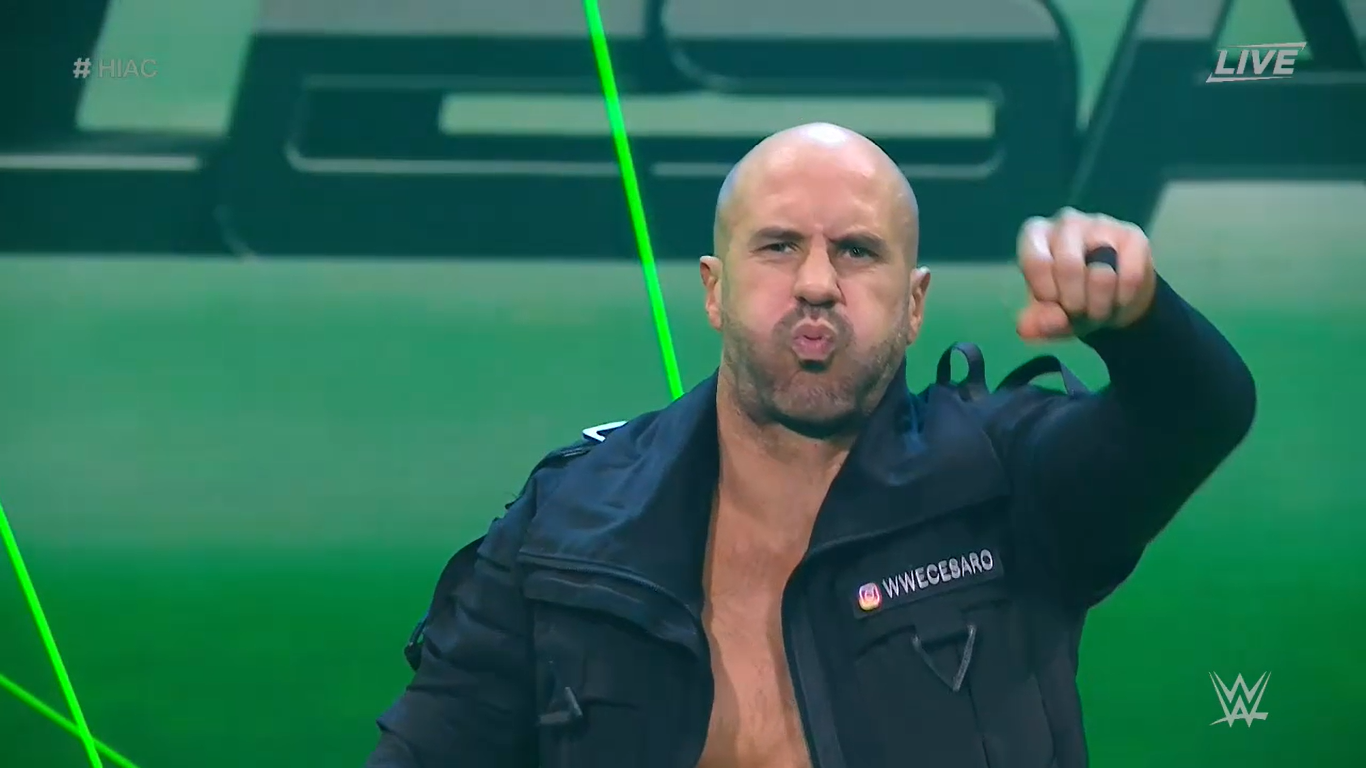 Cesaro vs. Seth Rollins

We go back to the ring and out comes Cesaro first. Seth Rollins suddenly attacks out of nowhere at the bottom of the ramp.

Cesaro fights back and they end up in the ring with the referee trying to restore order. We get the bell now. Rollins leaps but Cesaro catches him with a big powerslam. Cesaro with forearms on the mat. They get up and Rollins fights back. Cesaro with a big back-drop in the middle of the ring for a pop.

Cesaro knocks Rollins over the top rope with a big running boot. He follows but Rollins decks him. Cesaro sends Rollins face-first into the barrier. Cesaro with a big uppercut. Cesaro rolls Rollins back into the ring and goes to the top. Cesaro flies with a big double axe handle for another pop. Rollins kicks out at 1.

Cesaro beats Rollins while he's down, then sends him face-first into the turnbuckle. Cesaro unloads in the opposite corner now. Rollins goes face-first into another turnbuckle now. Cesaro with more big uppercuts in the corner. Rollins kicks him and drops Cesaro face-first into the middle turnbuckle. Rollins grinds Cesaro's face into the middle rope now. Rollins keeps control and drops Cesaro with a DDT. Cesaro kicks out at 2. Rollins beats Cesaro around the ring now, talking trash while he's down.

Rollins with big knees to the ribs. Cesaro blocks a suplex attempt but Rollins works on the ribs. Cesaro overpowers with a big vertical suplex of his own for a pop. Rollins fights from the apron and back-drops Cesaro over the top rope to the floor. Rollins with a flying knee from the apron to the face on the floor. Rollins brings it back into the ring now. Rollins springboards up and nails the flying knee again. Cesaro kicks out just in time and Rollins shows some frustration.

Cesaro blocks a running kick and nails an uppercut but Rollins comes right back. They trade shots as fans rally for Cesaro. Cesaro with uppercuts and body blows into the corner. Cesaro keeps control and dumps Rollins on the mat. Cesaro stomps away while Rollins is down. Cesaro pulls Rollins' glove off and shoves it in his mouth, then delivers a clothesline for a 2 count.

Cesaro grabs Rollins' glove now and kicks it into the ThunderDome crowd. Cesaro begins an uppercut train now but Rollins tries to cut him off. Cesaro catches Rollins in mid-air with a big powerslam for a 2 count. Rollins blocks the Neutralizer and sends Cesaro to the apron. They tangle and Cesaro goes to the top. Rollins runs up to the top for a superplex but Cesaro resists, sending Rollins to the mat. Cesaro with a crossbody but Rollins rolls through and holds it for a close 2 count. Cesaro leaps with an uppercut but Rollins side-steps. Rollins ends up hitting an enziguri and a right hand.

Rollins with a stiff strike to the back of the neck now, dropping Cesaro in the middle of the ring. Cesaro kicks out just in time. Rollins starts ranting as fans boo him. He holds Cesaro down by his throat and yells, then man-handles him some as the referee warns him. Rollins applies an arm submission now. Cesaro struggles but Rollins drops him with a Falcon Arrow for a close 2 count. Rollins with another shot to the back of the neck for 2. Rollins is frustrated now.

Fans rally for Cesaro as they trade moves and counters. Cesaro levels Rollins with a big clothesline but they both go down in the middle of the ring. Cesaro slams Rollins and delivers the Cesaro Swing to a big pop. Cesaro then goes for the Sharpshooter and he gets it locked in. Cesaro turns it into a Crossface but Rollins rolls over. Cesaro has the Crossface locked in. It's broken but he goes for the Sharpshooter again, locking it in.

Rollins reaches for the bottom rope but Cesaro pulls him back. The hold is broken but Cesaro stomps on Rollins' limbs now. Rollins catches what looks like another Sharpshooter attempt and rolls Cesaro up out of nowhere for the pin to win

Winner: Seth Rollins

– After the match, Rollins heads to the floor as his music hits. A disappointed Cesaro sits up in the ring and looks on as Rollins regroups at ringside. We go to replays. Rollins limps around and makes his exit as Cesaro looks on from the ring. Rollins laughs from the stage now.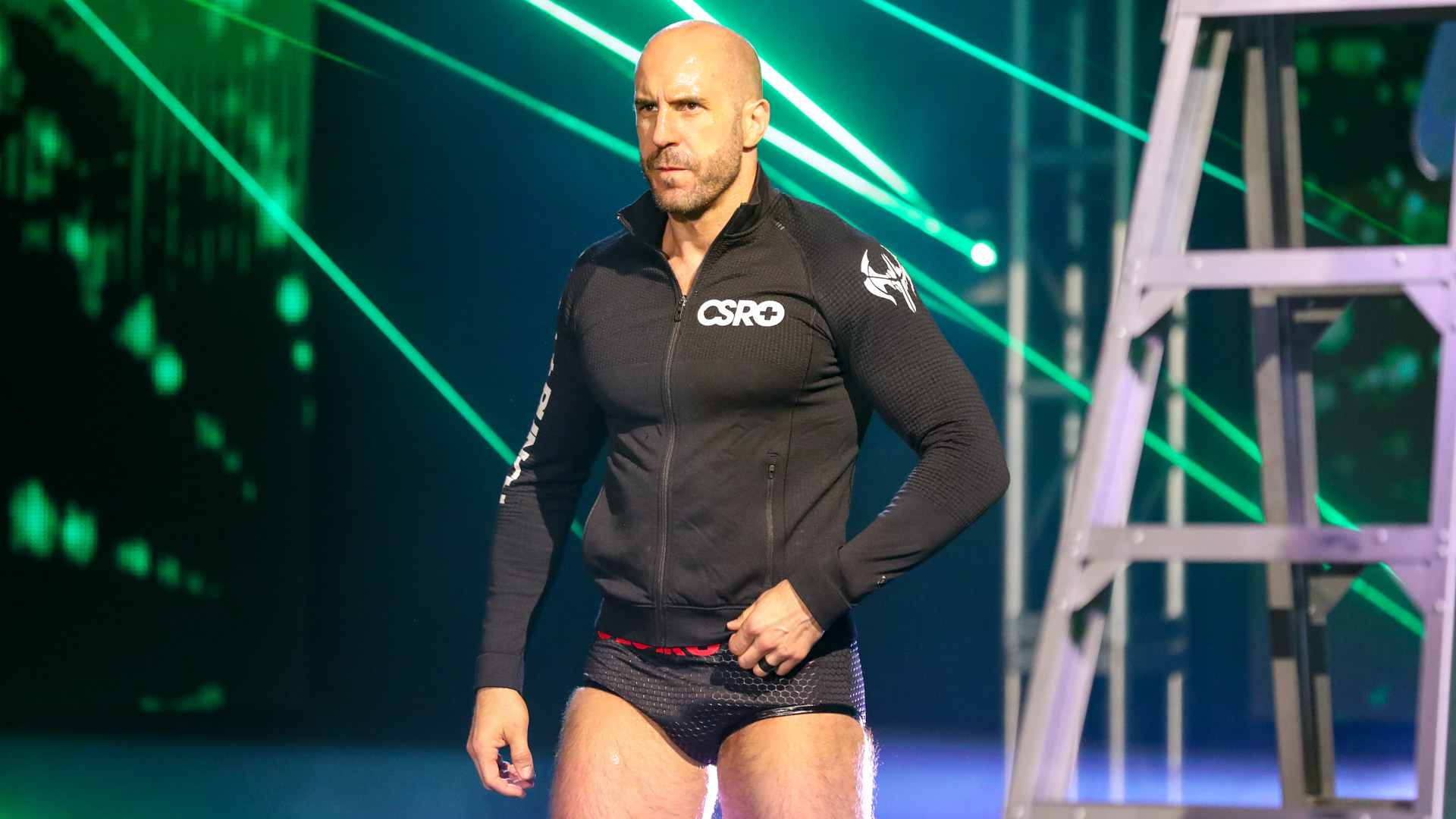 Jeff Hardy vs. Cesaro

They locked up. Cesaro was sent into the ropes but tackled Hardy down for a two count. They grappled in the ring but Cesaro caught Hardy in a side headlock, grinding away to wear him down. Hardy reversed and was sent into the ropes, this time being the one who tackled Cesaro down. Hardy nailed an atomic drop and snapmared Cesaro over,.

Hardy went to the floor and charged, diving off the steps at Cesaro, but was caught and slammed down across the barricade, crashing over to outside the ringside area, Hardy was almost counted out but made it back inside the ring in time. Cesaro used his boot to squeeze Hardy's face into the mat, then choked him against the ropes. He snapped Hardy's neck into the ropes.

Cesaro continued working over Hardy, scoring several two counts. Hardy reversed a whip into the corner and nailed a right hand. He drilled Cesaro with a kick that sent him to the outside. Hardy dropkicked Cesaro through the ropes. He went to whip Cesaro into the the digital ring apron but Swiss star reversed it and Hardy nailled them hard. Cesaro tossed him into the ring and nailed a legdrop off the ropes on Hardy for a two count.

Hardy fought off Cesaro in the corner and nailed Whisper in the Wind for a two count. Cesaro battled back with big uppercuts but was caught with a backslide for a two count. Hardy snapped him with the Twist of Fate (Yes, Michael Cole called it that, as did Corey Graves) but Cesaro kicked out of the move. Cesaro cut off Hardy and scored several two counts. Cesaro went for the Gotch Neutralizer but was backdropped over. He landed on his feet and drilled Hardy with a lariat for a two count.

Hardy rolled to the floor. Cesaro drilled him with a big running uppercut. Cesaro went to whip Hardy into the steps but Hardy reversed and Cesaro crashed over the steps. The story was that he hit knee first, which he had been selling earlier. Hardy tossed him into the ring and scored the pin after a swanton off the top.

Your winner, Jeff Hardy!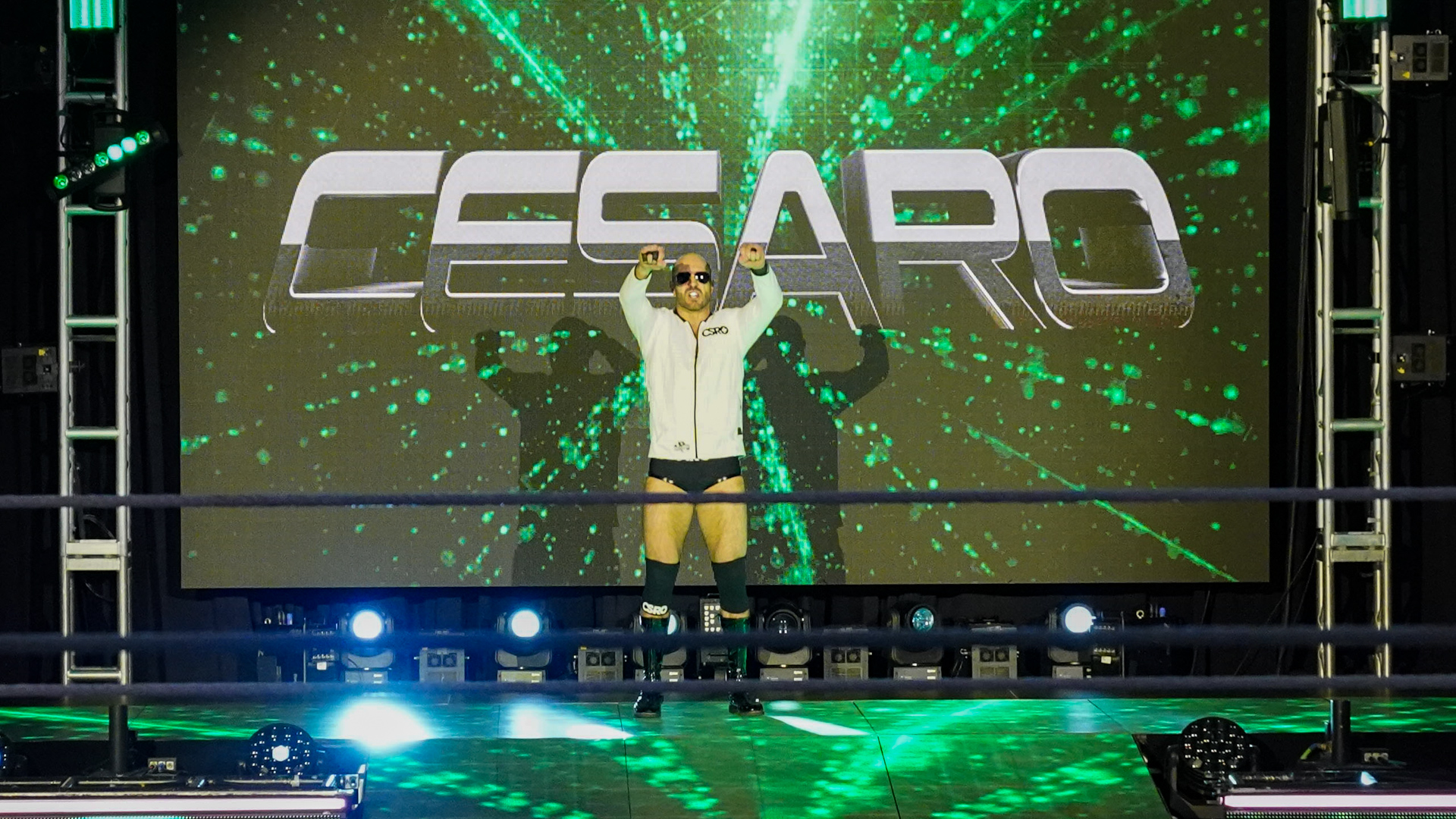 Match Number One: Drew Gulak versus Cesaro

Gulak with a wrist lock and he takes Cesaro to the mat. Cesaro with an Irish whip but he runs into a boot. Cesaro with a back breaker for a near fall. Gulak escapes the Gotch Style Neutralizer and goes for an arm bar. Gulak with a triangle but Cesaro rolls Gulak up and gets a near fall followed by a one arm power bomb. Cesaro sets for the Neutralizer but Gulak escapes and applies a crossface. Cesaro gets to the ropes. Gulak sends Cesaro over the top rope to the floor. Gulak with a clothesline off the apron but Cesaro with a forearm.

Gulak clotheslines Cesaro over the top rope again. Gulak comes off the apron and he is caught by Cesaro but Gulak escapes with a head scissors. Gulak sends Cesaro into the ring steps a few times and then they return to the ring and Gulak goes up top. Gulak comes off and is met with a European uppercut. Cesaro gets a near fall. Gulak gets a near fall. Gulak with a Fujiwara arm bar but Cesaro gets to his feet and he connects with knees. Gulak with a sunset flip as Cesaro tries for a leap frog.

Cesaro with a slam and a forearm. Gulak escapes the Neutralizer and Cesaro with a European uppercut and the UFO for the three count.

Winner: Cesaro

Corey says that Sami Zayn has to be feeling good after Cesaro's victory while Peter wonders if it will affect Daniel later tonight.

Match Number Four: Intercontinental Championship Match: Sami Zayn (with Shinsuke Nakamura and Cesaro) versus Daniel Bryan (with Drew Gulak)

Sami gets some advise from Cesaro and Nakamura. Zayn goes to the floor and says that Bryan is crowding him. Zayn returns to the ring and then goes to the floor. Zayn gets back into the ring but he goes back to the floor when Bryan moves to him. Bryan chases Zayn on the floor and Cesaro gets in the way. Zayn gets in the ring and Bryan goes back in but they go back to the floor. Nakamura blocks Bryan's path to Zayn. Zayn returns to the ring. Zayn gets back to the floor and Zayn crawls away and Nakamura and Cesaro block Bryan's path. Gulak with a cross body off the apron onto Nakamura and Cesaro. Gulak sends Cesaro and Nakamura over the ringside barrier. Zayn wants to attack Gulak but Gulak sees him.

Bryan tells Gulak to let him go. Zayn starts to walk up the ramp but Bryan attacks Zayn from behind and punches him. Bryan sends Sami back into the ring. Bryan with a single leg take down and then he punches Zayn while Sami begs for mercy. Bryan with knees and Zayn tries to get out of the ring. Bryan stops Zayn and Bryan with a kick to the hamstring and back. Bryan with punches to Zayn. Zayn rolls to the floor and Bryan with a suicide dive. Bryan with kicks to the chest and they return to the ring. Bryan goes up top and hits a missile drop kick. Bryan pulls Sami into the middle of the ring and connects with crossfaces. Bryan sends Sami into the turnbuckles and Bryan slaps Zayn.

Bryan with kicks to the chest. Bryan with a running drop kick. Sami wants to talk to Bryan but Bryan with knees to the chest. Sami goes to the apron but Bryan brings him back in but Sami with an elbow and punches. Sami with a clothesline. Sami slaps Bryan and then he connects with a forearm and chops. Sami with forearms and Bryan with a flying clothesline. Bryan with kicks to the chest. Bryan with boots to the chest. Gulak tells Bryan it is time to put him away but Cesaro and Nakamura attack Gulak. Bryan with a suicide dive onto Cesaro and Nakamura.

Bryan goes up top and Sami with a boot for the three count.

Winner: Sami Zayn (retains Championship)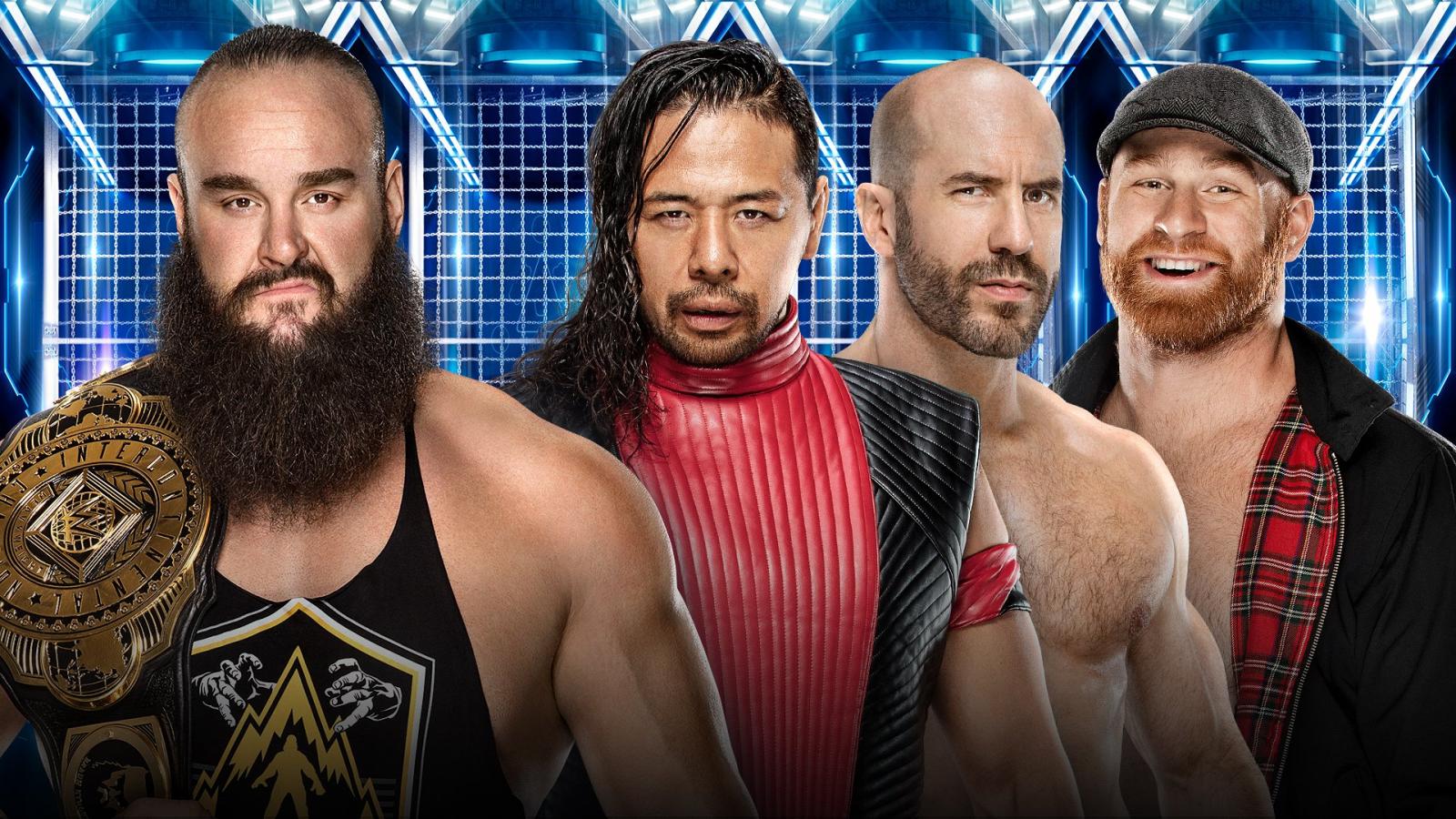 At WWE Elimination Chamber, Braun Strowman will defend the Intercontinental Championship against the combined forces of Shinsuke Nakamura, Cesaro & Sami Zayn.

Since conquering Nakamura to lay claim to the workhorse title, Strowman has been a major disruption to both the former titleholder and his cohorts Cesaro and Zayn, to say the least. Most recently, the fierce champion joined forced with Elias to overcome The Artist & The Swiss Cyborg in a Symphony of Destruction Match — a contest that saw The Monster Among Men powerslam Shinsuke off the Commentators' desk onto a grand piano and leading to his adversary receiving nine staples in the back of his head.

In the wake of that onslaught, a contract signing was set up for a one-on-one rematch between Strowman and Nakamura for WWE Elimination Chamber. But, when Zayn asked to further review the contract, Strowman remarked that he would end up fighting all three of his foes no matter what the contract said and he signed it. Seizing the moment, Zayn held Strowman to his word. As a result, a 3-on-1 Handicap Match for the title was made official. In the wake of the signing, the three Superstars ganged up on the titleholder and put him through the table. And the rest, as they say, is … hysteria.

Don't miss all the carnage of WWE Elimination Chamber, streaming live on the award-winning WWE Network, March 8, beginning at 7 ET/4 PT!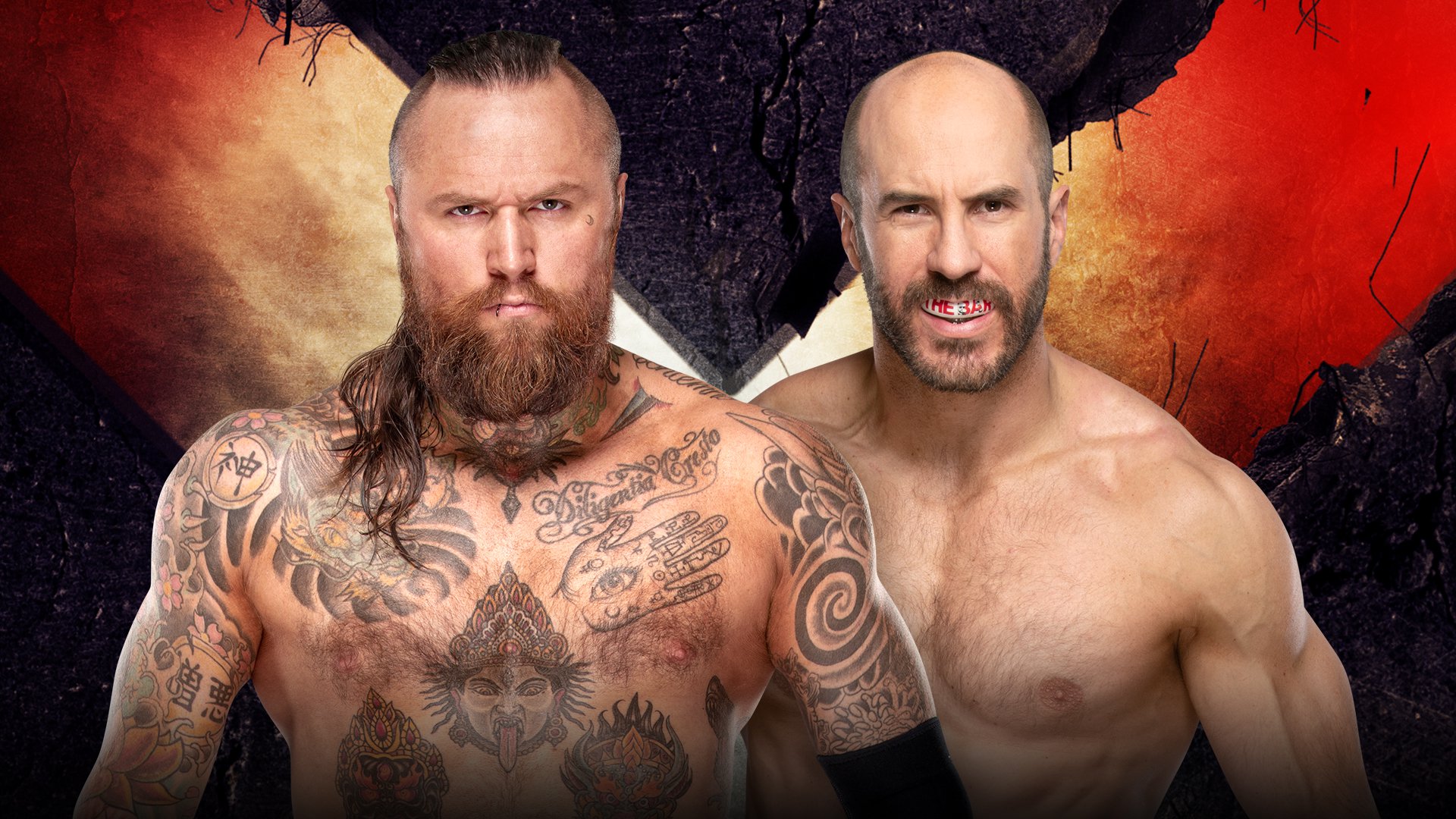 The Dutch Destroyer spent weeks begging for a fight against any Superstar willing to step up to him, and on the July 9 edition of SmackDown LIVE, he found his match in The Swiss Cyborg. In Cesaro, Black not only finds a suitable challenge, but his biggest hurdle since joining SmackDown LIVE.

A bionic in-ring machine, Cesaro has duked it out with the best of them while maintaining his reputation as one of the toughest competitors in action today. For Black, he's simply out to prove that he is the best of them.

Get set for a hard-hitting war of attrition when the striking man from Amsterdam squares up against The Swiss Cyborg. Who's coming out of this battle with the victory?

Find out when WWE Extreme Rules streams live Sunday, July 14, at 7/6 C on the award-winning WWE Network.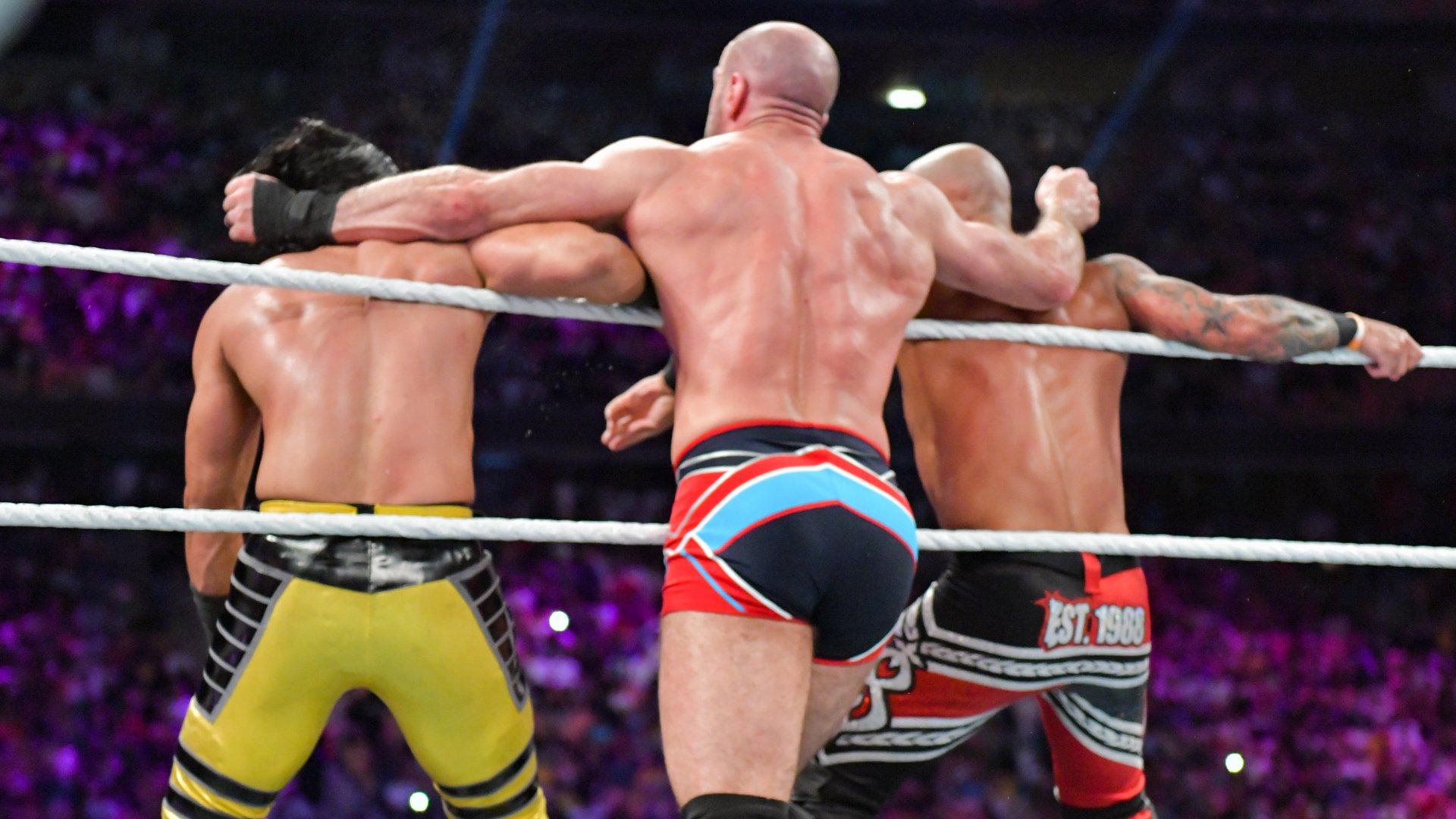 50 Man Battle Royal

Everyone you could think of was in this. Even Michael Bennett.

They gave Miz, Elias, Cesaro, Samoa Joe separate entrances from everyone else. Elias sang a song. They then did the same with Titus, playing off his Greatest Royal Rumble flub. Titus was hiding under the ring before finally getting in the ring.

The Singh Brothers were crowd surfed out of the ring. Everyone battled. The 50 competitors fighting looked pretty cool. Beyond that, it was standard battle royal fare. Titus actually tossed out both Viking Raiders. Ricochet took out Jinder.

They noted Mansoor had nearly 30 family members at the show.

Cesaro did the big swing on Cedric Alexander. Nice to see WWE remembered they have him and Buddy Murphy under contract!

Sin Cara was hit with the Kinshasa by Shinshuke Nakamura but still came back to eliminate him. Rusev tossed Cara.

Miz hit the Yes Kicks on Cesaro and Elias. Ali and Ricochet hit some cool aerial offense on Cesaro.

Samoa Joe went after Ricochet but he and Ali were able to double suplex Joe over the top to the floor. Cesaro came back to knock them over the top, eliminating them. Mansoor knocked Cesaro over the top but was attacked Elias.

Mansoor hit a superkick. Elias tried to toss him over the top but Mansoor landed on the apron. Elias went after him but was backdropped over the ropes to the floor.

Your winner, Mansoor!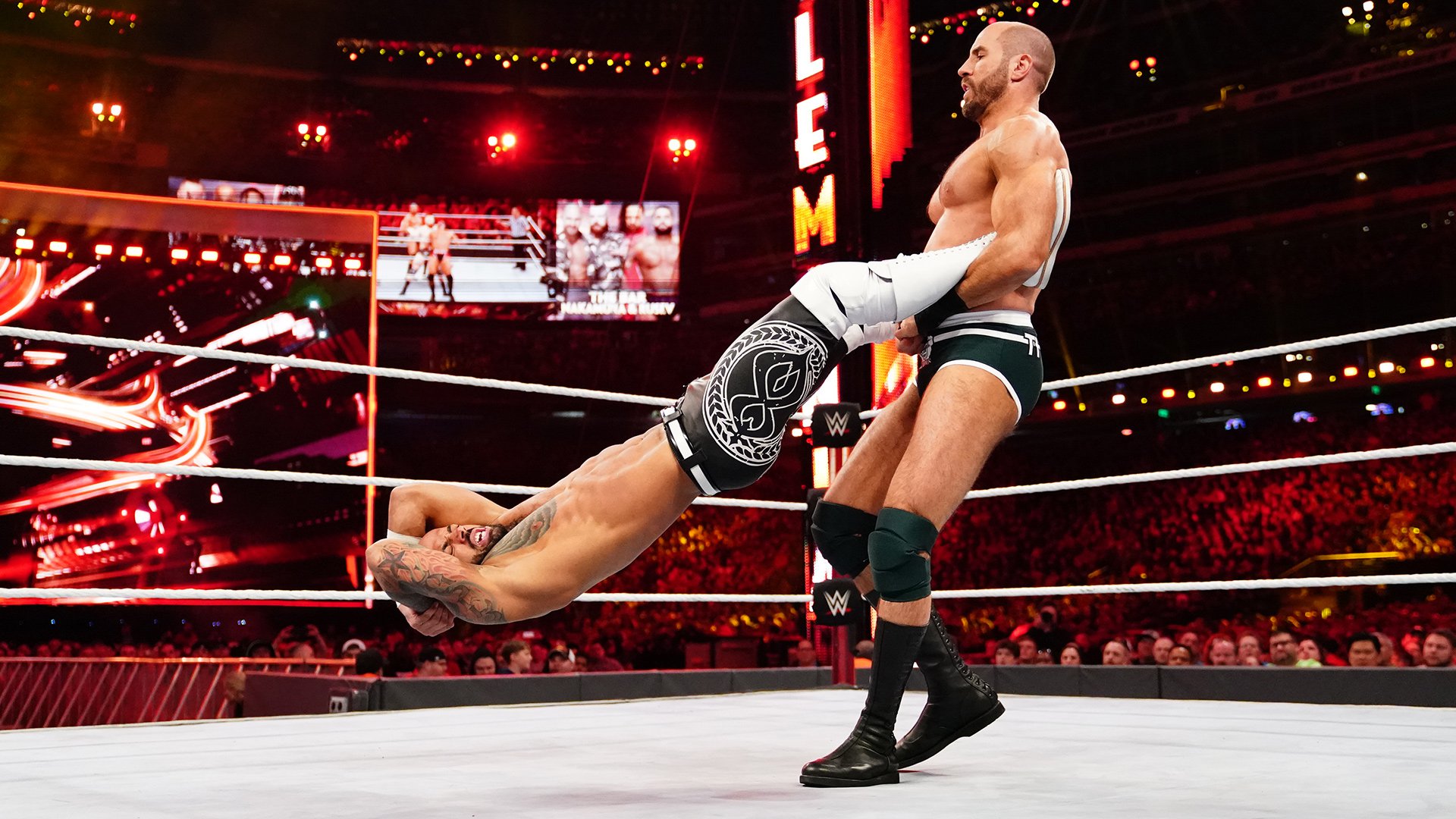 Smackdown Tag Team Title Match: The Usos vs Rusev & Shinsuke Nakamura vs Aleister Black & Ricochet vs The Bar

Tom points out that the Usos are the first team in WWE history to walk into Wrestlemania as champions three years in a row. Black and Jey start, but then Sheamus fights his way in and goes to work on Black. Rusev tags in and turns Black inside out with a clothesline, then Nakamura tags in to dish out some punishment of his own.

Everyone else has a chance to tag in and out until the Bar decimates practically everyone. Cesaro big swings Ricochet while Sheamus gives his forearm barrages to all the other opponents, then Cesaro gets Ricochet in the Sharpshooter. Another Pier Six brawl breaks out as everyone takes turns coming in to hit spots on each other, then they hit the Tower of Doom spot, and Ricochet somehow lands on his feet and rolls through to survive. Ricochet hits a 630 on Sheamus and makes a cover, but four guys come in to break the fall at 2. Back to hitting spots, and the Usos hit the Double Us for the win.

Winners: Jimmy & Jey Uso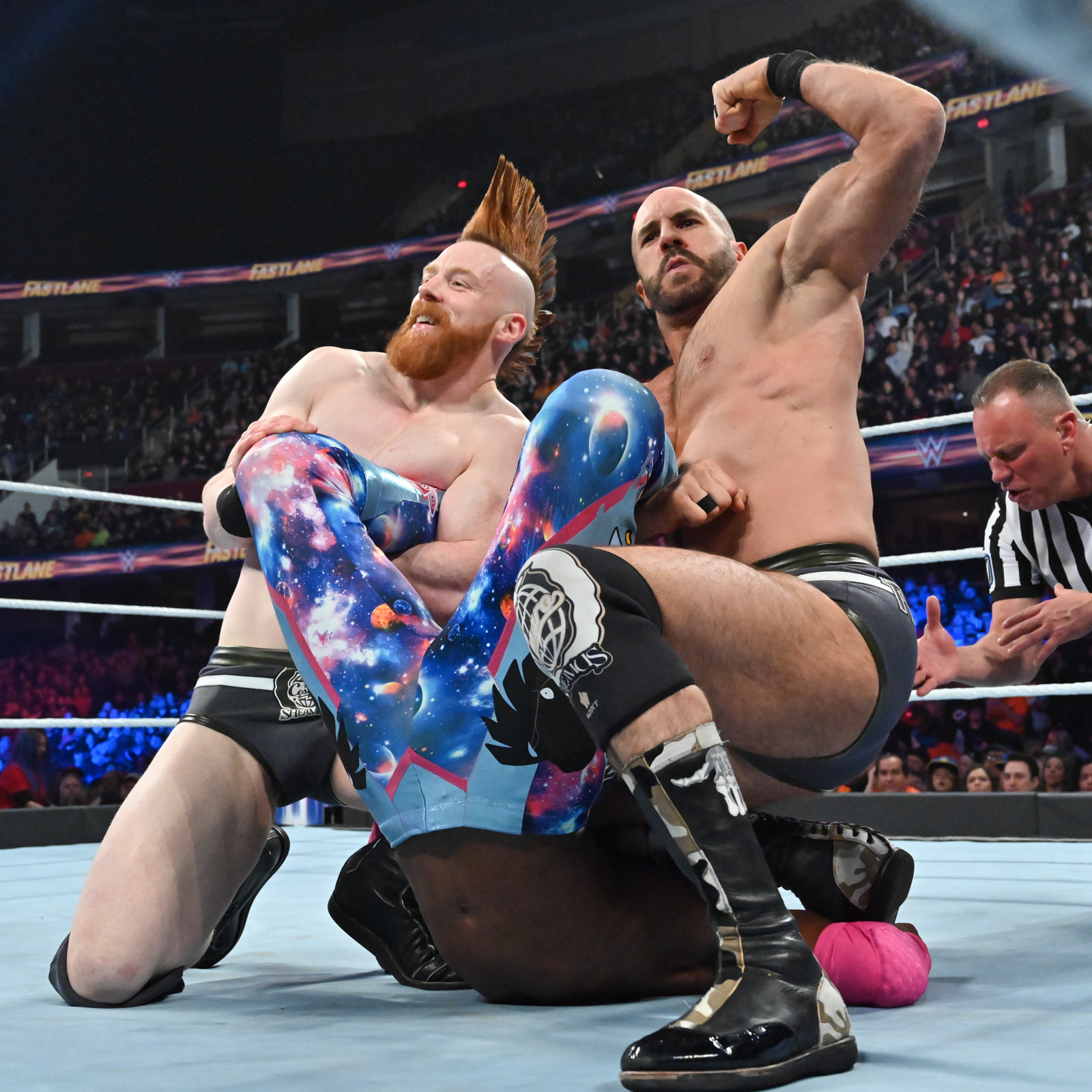 Match Number Three: Kofi Kingston versus The Bar (Sheamus and Cesaro)

Sheamus and Cesaro attack Kofi and Sheamus sends Kofi into the turnbuckles. Cesaro punches Kofi and irish whips Kofi. Kofi floats over and Sheamus is sent into the ring post. Kofi with punches to Cesaro and Sheamus with a forearm. Sheamus and Cesaro with a double single leg crab on Kofi. Cesaro with a European uppercut and Kofi is sent to the floor. Cesaro with a gutwrench onto the ringside barrier. Sheamus and Cesaro with forearms to Kofi. Sheamus is sent into the ring post by Kofi and Kofi sends Cesaro into the ring. Kofi goes up top and he hits a forearm to Sheamus on the apron. Kofi goes up top and is met with a Eurpoean uppercut from Cesaro. Cesaro picks up Kofi for a power bomb and Sheamus adds a clothesline from the turnbuckles.

Cesaro holds Kofi for a Brogue kick from Sheamus. Cesaro pulls Kofi up when the referee starts to count. Cesaro holds Kofi up and Big E and Xavier Woods make their way to the ring but Rusev and Shinsuke Nakamura stop them. Rusev with a Machka Kick to Woods and Nakamura with Kinshasa to Big E. Sheamus and Cesaro hit a spike White Noise for the three count.

Winners: Sheamus and Cesaro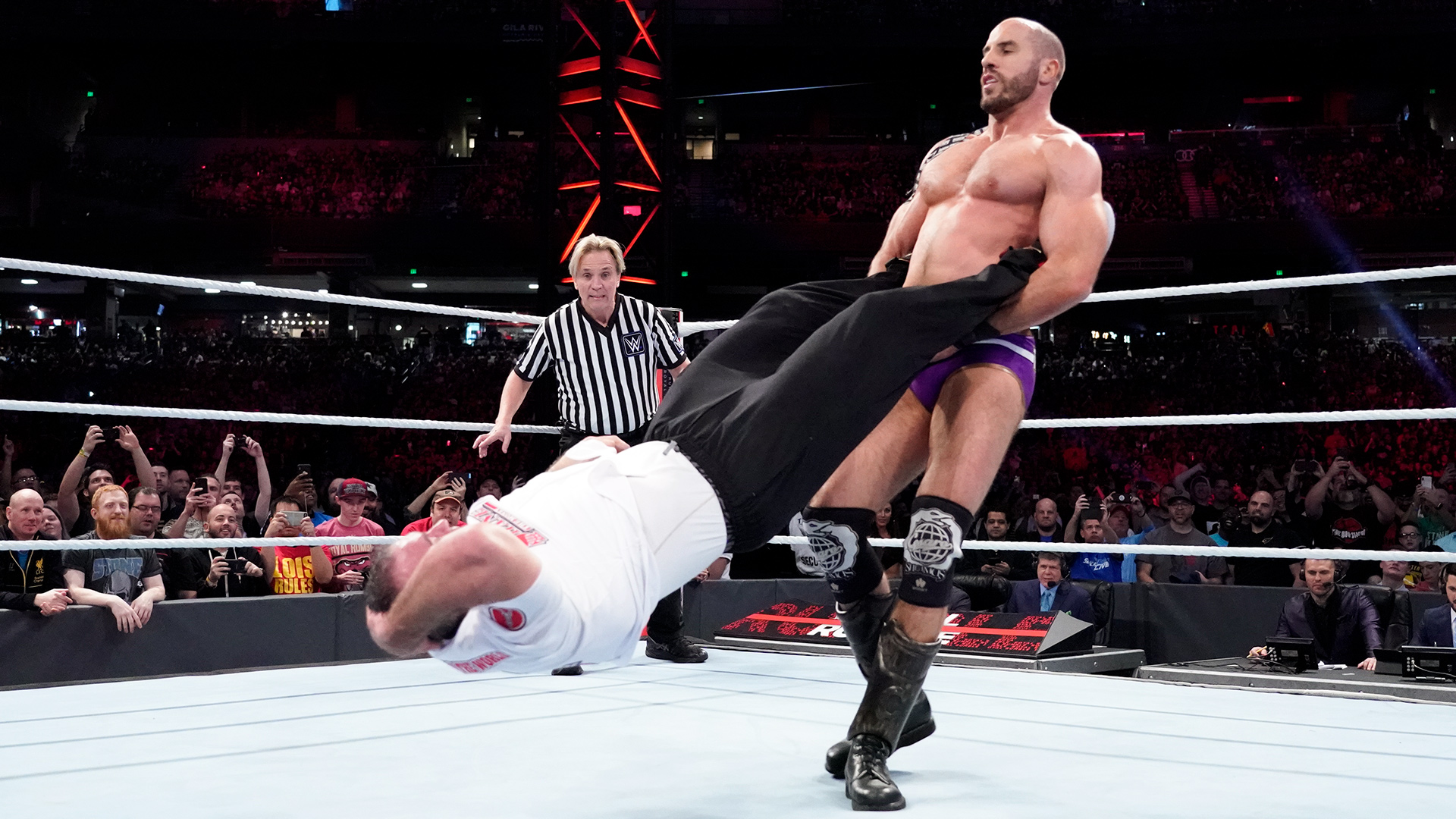 WWE Smackdown Tag Team Champions The Bar vs. Shane McMahon & The Miz.

Miz and Shane greeted Miz's dad at ringside before the bout.

Shane went right after Sheamus at the bell, chasing him out of the ring. Miz then controlled Cesaro early. Sheamus knocked Shane off the apron, allowing him to get control over Miz. Cesaro snapped Miz's throat on the ropes as the referee admonished Sheamus. They attempted to put Miz through a table on the floor. Shane made the save and placed Cesaro on one of the announcers' tables. Shane went to the top for the flying elbow but Sheamus attacked Miz, who was holding Cesaro down and drilled him into the ringpost. Shane dove off the top onto Sheamus. Cesaro nailed him with a big uppercut.

Cesaro tossed Shane into the ring barrier. The Bar worked over Miz in the ring and scored a pinfall. Miz was worked over by Sheamus, trapped in an overhead hammerlock. Miz tried to fight his way out, but Sheamus blocked a suplex attempt. Miz was positioned on the apron and beaten across the chest with clubbing blows by Sheamus.

Cesaro tagged in and scored a two count on Miz. Cesaro worked him over with a chinlock. Miz tried to fight away for a tag but was brought back to the Champions' corner, where Sheamus tagged in and was stomped over and over. Miz tried to steal a pinfall with a rollup but Sheamus kicked out and drove Miz back into submission with a hard blow. Cesaro came off the top with an axehandle as Sheamus held him but Miz again kicked out. The Bar continued to beat down Miz.

Miz finally made the tag. Shane cleaned house and teased Coast to Coast on Sheamus. Cesaro nailed him and did the big swing. Shane trapped him out of nowhere with a triangle choke and it appeared Cesaro was going to go down but Sheamus made the save. Miz returned to the fray but was clotheslined on the floor.

Sheamus tagged in and The Bar nailed a double-team White Noise with Cesaro coming off the ropes to add to the momentum. Shane kicked up. Sheamus went for the Brogue Kick but Miz interfered and Cesaro was nailed. Miz took out Sheamus. Shane came off the top with a shooting star press and scored the pin. Move over Jushin Liger!

Your winners and new WWE Smackdown Tag Team Champions, Shane McMahon & The Miz!